INCO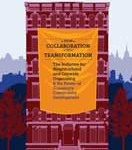 Click here to download INCO report

Click here to download INCO timeline
ANHD's Initiative for Neighborhood and Citywide Organizing (INCO) is a funding and capacity-building program that has become a national model of how to catalyze and support high-impact community organizing. INCO is a partnership with the Neighborhood Opportunities Fund (NOF), a local donors' collaborative which provides $40,000-50,000 per year for 15 groups to support intensive capacity-building assistance and policy advocacy coordination provided by ANHD. With this funding and support, each of the 15 INCO groups won substantial, concrete improvements in their communities, while helping to lead citywide campaigns for affordable housing.
In recent years, INCO-led policy campaigns have won major changes. Since 2003 INCO groups have leveraged $1.3 Billion for affordable housing, including $400 million in funding for affordable housing from the Battery Park City surplus. INCO work also achieved landmark new anti-harassment legal protections for tenants through the Tenant Protection Act, forming the front-line defense against predatory equity by educating threatened tenants, and passage of legislation in Albany to tighten a major loophole in the rent regulations laws called the Individual Apartment Improvement loophole.
In September 2008, INCO began a second four-year funding and training round. A special focus of the current round is to build the organizing capacity of immigrant-led groups and nonprofits based in neighborhoods lacking a strong organizing network.
For more on the amazing work of the INCO program, be sure to read From Collaboration to Transformation, our new report highlighting the extensive achievements of the INCO program from 2003 to the present.