Affordable Housing Trainings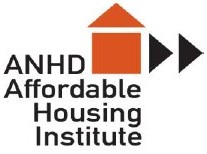 ANHD's Classes and Workshops in
Green Affordable Housing Production and Preservation
Community Organizing & Post-Sandy Rebuilding & Resiliency
The Affordable Housing Institute conducts a comprehensive, year-round series of training courses and a score of single-session workshops that promote best practices in affordable housing green management and development, increases policy advocacy skills, and through a new series for 2013/2014 assists community organizations and residents working on post-Sandy rebuilding and resiliency.
ANHD gratefully acknowledges the generous support of:
Amalgamated Bank, Astoria Federal Savings, Bank of America, BTMU Foundation, Capital One, Citi Foundation, Consolidated Edison,  HSBC, NYC Housing & Neighborhood Recovery Donors Collaborative, Ridgewood Savings Bank, and Wells Fargo Foundation
By mail, please send application with payment (checks made to ANHD) to:


ANHD,

50 Broad St., Ste. 1125, NY, NY 10004
Attn: Rita Mazza  

or fax to 212-747-1114.
LOCATIONS: Association for Neighborhood and Housing Development (ANHD), 50 Broad Street, Ste. 1125, NYC below Wall St., near A, C, E, R, J, Z, 2, 3, 4, and 5 trains.  EXCEPTIONS: 10/9 and 12/11 are at other sites.
TIME & FEES: Vary – please see list below (classes run 2 to 3 hours).
REFUND POLICY: If you are unable to attend after registering, you must contact ANHD 48 hours in advance to receive a refund on check payments. All credit card refunds will include a 10% transaction deduction.
CONTACTS:  Mike Bucci 347-306-1745/ mgbucci@aol.com or call ANHD at 212-747-1117 to contact Moses Gate x 15  (moses.g@anhd.org) and Rita Mazza x 10 (rita.m@anhd.org).
 ___________________________________________________________________________ 
FREE Dec. 10:  Community Resiliency and Active Design in Sandy Rebuilding  4 – 5:30 pm.  Presented by the Center for Active Design and the NYC Department of Health and Mental Hygiene for residents and community organizations impacted by Sandy recovery.
Dec. 11:  Field Trip to RBSCC's Passive House Construction Site – a 100% Affordable Development.   10:45 to 1pm – $30. NY City Architect Chris Benedict, R.A., will walk us through the construction site for the Ridgewood Bushwick Senior Citizen Council's 100% affordable housing development and explain its Passive Housing construction process.  This class will meet promptly at 10:45am at the site: 803 Knickerbocker Ave., Brooklyn.
Dec. 11. Introductory Organizing Workshop. 1 – 5pm   $25 for ANHD members, $40 for non-members- admits 2.
Dec 17. Advanced Housing Law & Legal Research for Organizers. 10am-5pm  $75/agency for ANHD members, $150 for non-members- admits 2.   This training will cover key topics relevant to tenants, and will clarify how the law is actually interpreted and applied in housing court and through administrative systems.
Dec. 18. Financing Energy-Conservation Measures: Rehab Retrofits & New Construction. 9:30 – 12:30 – $30
NYSERDA Multi-Family Performance Program, NYS Weatherization Assistance, and Con Edison's Multi-Family Energy Efficiency Program.  Marta Bell, Director of Client Services at Association for Energy Affordability will explain programs, eligibility, financial benefits and energy saving retrofits.

Community Preservation Corporation (CPC) Green Financing Initiative.

 Andrew Padian, Vice President for Energy Initiatives at CPC, a non-profit affordable housing lender in NYS, will explain the CPC Green Financing Initiative, rehabilitation loan program terms, energy audit, financing.
REFUND POLICY:  If you are unable to attend after registering, contact ANHD 48 hours in advance to receive a refund on check payments. All credit card refunds will include a 10% transaction deduction.
CONTACTS:  
———————–
Sessions held earlier this semester:
FREE Dec. 5:  Codes for Sandy Rebuilding and Elevation – 10 – noon. ANHD welcomes FEMA to discuss updated re-building codes, base flood elevation maps and requirements, and answer questions about the National Flood Insurance Program.
Dec. 5: Pulling Back the Lending Curtain: Research & Organizing Strategies (Part II).  2 – 5pm - $25 for ANHD members, $40 for non-members – admits 2.  How to effectively utilize data to identify patterns of poor lending in buildings or portfolios with bad conditions. Discusses HPD's First Look program which has successfully helped overleveraged distressed properties. Participants will strategize with other organizers on troubled buildings or portfolios.
Dec. 4: Passive House Construction. 9:30 – 12:30 – $30.  Prominent NY City Architect Chris Benedict, R.A., explains Passive House construction methods of super insulation, tight building and apartment construction and heat recapture/exchange. Passive House construction may be accomplished at the same cost as general construction and cut energy use 90%.
Nov. 21: How to Organize a Tenant Association.  2 – 5pm - $25 for ANHD members, $40 for non-members – admits 2.   How to organize a tenant association, the function of a tenant association and essential steps to take. Participants will also learn how to integrate and balance tenant organizing and community organizing efforts.
Nov. 20:  Low Income Housing Tax Credits – Context, Dynamics & Trends: An Update. 9:30 – 12:30 - $30.  William Traylor, President, Richman Housing Resources, will update the status of the LIHTC program, including analysis of current investor demand and solutions.
FREE Nov. 14: Housing Recovery Resources Available. 2 – 4pm.   New York City Neighborhoods & ANHD present resources available to both residents and community groups involved with Sandy recovery.
 Nov. 13: Economic Development For Organizers. 2 – 5pm – FREE for ANHD members, $40 for non-members (admits 2).   This training will cover the basics of Economic Development policy in New York City. The workshop will detail the Economic development tools and the primary actors and institutions.
Nov. 13:  9:30 – 12:30 – $30.
Housing Court - 9:30 -11 am: Louise Seeley, prominent housing attorney & Executive Director of Housing Court Answers, will walk through the steps associated with different aspects of housing court.
Removing Building Violations – 11am-12:30pm: Randall Powell, Assistant Vice President, MBD Community Housing, will guide us through the sometimes complicated process of effectively removing ECB, HPD & DOB violations.
Nov. 7: Land Use and Zoning Workshop Series – 3rd of 3 Sessions.  10am – 1pm – $25 for ANHD members, $40 for non-members – admits 2.  Imperfect Tools: How Land Use policies are used to build and preserve affordable housing and what we can do to make them better.
Nov. 6:  Detailed Overview of Green  Building Maintenance & Property Improvement.   9:30 – 12:30 – $30.   Aaron Lewit, LEED, Construction Manager, will explain best maintenance & preventive maintenance practices for all building systems including: mechanical, heating, ventilating, cooling, plumbing, electrical, communication, vertical transportation systems, as well as the rehabilitation process.
Nov. 5:  Engaging Immigrant Communities in Housing Recovery.  ANHD's Eric Williams focuses on immigrant communities impacted by Sandy.
October 30:  The Business of Asset & Property Management – Best Practices.  Lisa Deller, V.P. Asset Management, NY Equity Fund, will present the elements of sound asset & property management with an overview of roles & responsibilities & the day-to-day operations including: rent collection, supervising maintenance staff, record keeping, monitoring contracts, marketing & leasing, risk management & insurance. Managing the outside manager vs. self management, front & back office split, etc.
October 23:  Introduction to Developing Affordable Housing and Real Estate Finance. Drew Kiriazides, Chief Development Officer at Pratt Area Community Council. This nuts-and-bolts training explains how to do financial feasibility for real estate deals-to determine if a project is bankable or not. If you wanted to know how 'the numbers' work, this class is the one for you. If you were afraid of spreadsheets, then definitely this is the class for you. Students will have hands-on practice with pro forma development budgets. Participants also explore the different actors involved in the development process.
October 16:  Making Multifamily Buildings Perform More Energy Efficiently And Understanding Climate Change. Michael Sweringen, President of microLEADERSHIP, will start with the basic principles of building science and energy efficiency that all building supers and managers need — but most have never heard explained. He will then give a brief review of what causes climate change emergencies, the best predictions from climate scientists if we continue on our fossil fuel path and what we need to do to reverse things. We will examine what you and your organization are uniquely positioned to do to ensure we succeed.
October 9:  Project Compliance: Low Income Housing Tax Credit Compliance & Other Governmental Regulatory Issues. Tania Garrido, Director, Enterprise Community Asset Management, & Sandra Abramson, President of Tem-Pro-Tech, Inc., will guide us through the myriad of government compliance requirements, and help us understand the key players and main issues of project compliance, especially tax credit compliance, certification and income documentation requirements, tips, and working with partners and agencies such as HPD/DHCR/DOB/HUD to meet their regulatory mandates. This training will be held at Enterprise Community Partners, 1 Whitehall Street, 11th Floor.