Policy Reports
2013 Roadmap for Equitable Economic Development:  Expanding the Toolkit of the Community Development Movement.  From the 11/18/2013 ANHD conference held at the Ford Foundation, this report was supported by Capital One Bank.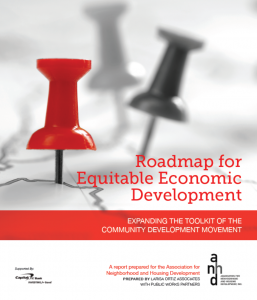 2013 – Less than 3% of re-zoned housing is affordable?
ANHD sets a new policy for Guaranteed Inclusionary Zoning to increase to 20% to 30%
.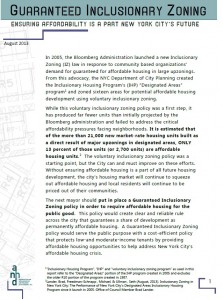 2013 At-Risk Housing Wall Chart – How is Affordable Housing Threatened in Your Neighborhood?   ANHD's annual community-by-community listing of threatened affordable housing units.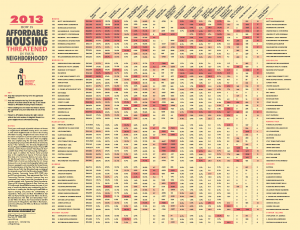 Real Affordability: an evaluation of the Bloomberg housing program & recommendations to strengthen affordable housing policy.   ANHD's research finds that 1/3 of subsidized housing built in NYC since 2003 is unaffordable for local residents. Report includes tools to help city and local organizations gauge how well proposed housing will meet community needs.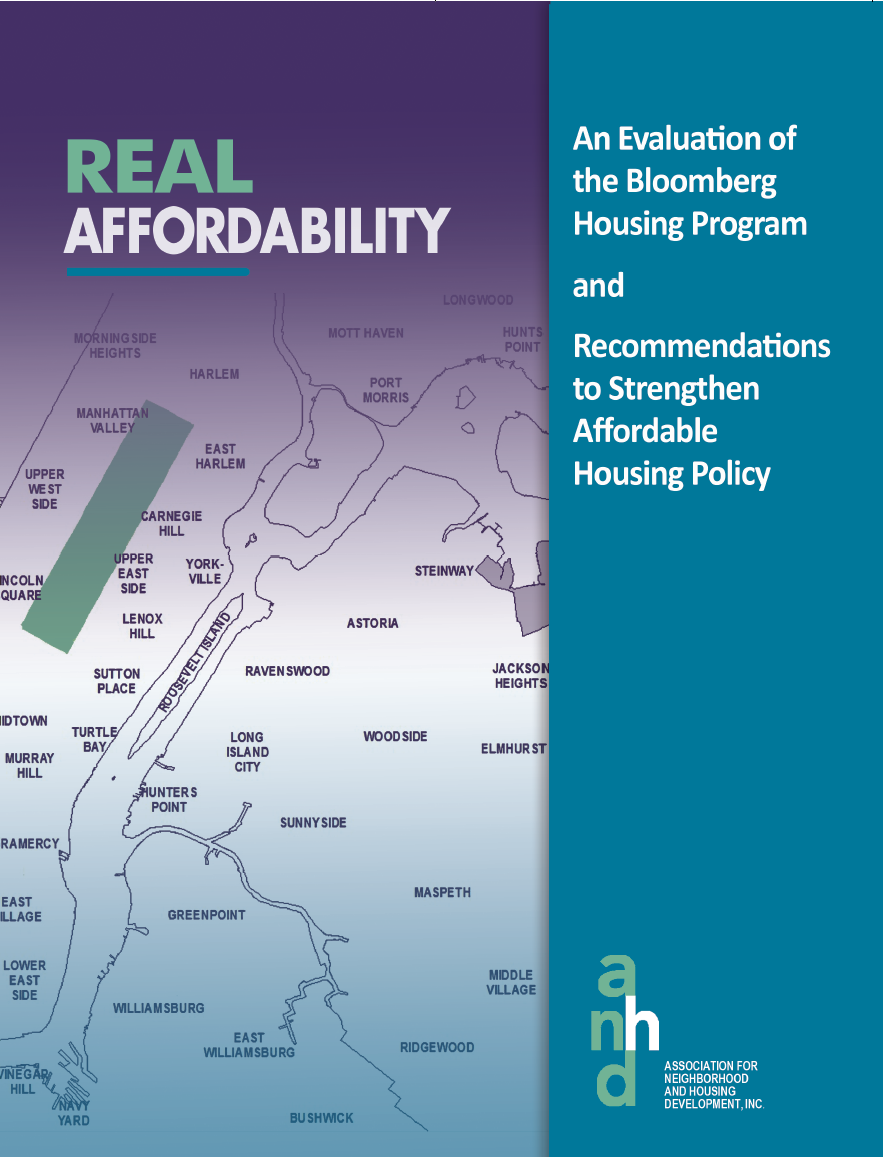 Mayoral – Affordable Housing Platform:  ANHD's research and recommendations on affordable housing policies for the next mayoral term.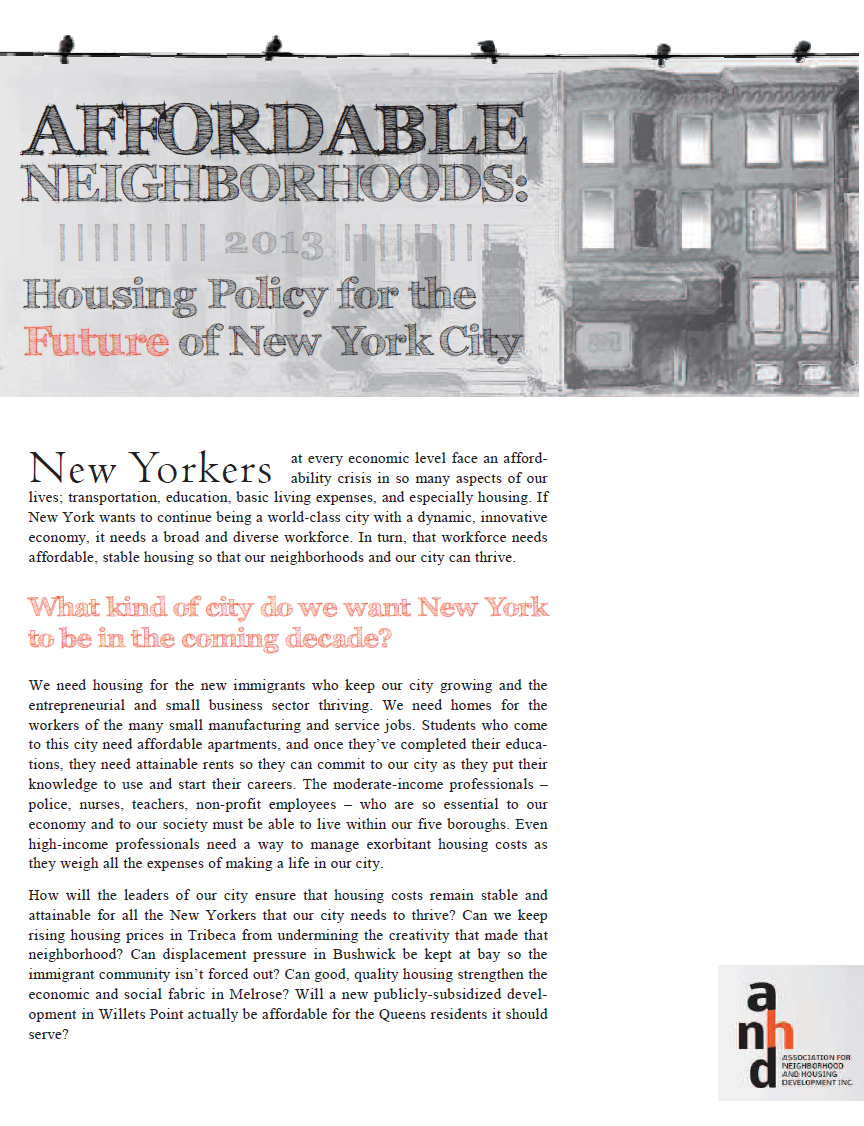 The State of Bank Reinvestment in New York City: 2012   Annual analysis of banks rate of servicing neighborhood credit needs in accordance with the Community Reinvestment Act.

INCO: From Collaboration to Transformation        As the little engine that could, this group of grassroots organizations led by ANHD leveraged $1.3 billion for affordable housing in NYC and achieved passage of legislation to help thousands of low-income tenants.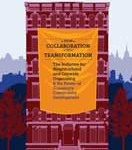 Keeping Banks Accountable to our Communities:  ANHD's 2011 national convening that led to the 2012 passage through NY City Council of the most comprehensive RBA in the US.

The State of Bank Reinvestment in New York City: 2011     Details sharp decreases in lending by the City's largest financial institutions.
CDCs and The Future of New York: Building for the Community and Building for a Stronger City   The many contributions CDCs (Community Development Corporations) have made throughout New York City.
Leveraging Tax Abatements    How New York City can achieve permanent affordability by using tax incentives to maximize the return on investment in both new construction and substantial rehabilitation projects.
State of Bank Reinvestment in NYC 2009  Details the sharp decrease in the amount of lending and services in working class neighborhoods provided by the City's largest financial institutions, ranks the banks, and highlights several institutions that have engaged in destructive lending practices.
A Permanent Problem Requires A Permanent Solution   Data on the number of at-risk, city-subsidized units.
Permanent Affordability: A National Conversation     The convening of key stakeholders from the affordable housing community, including local and national housing agencies, policy experts, not-for-profit developers, and advocates. The purpose of this forum was to engage in a discussion of challenges and opportunities related to ensuring permanent affordability in subsidized housing.
Predatory Equity: Evolution of a Crisis    Impending default crisis for 100,000 New York City affordable apartments.
The $20,000 Stove Report on 1/40th Rent Increase Fraud     Analysis of fraud in the 1/40th rent increase program and how lax oversight is undermining affordable housing.
Roadmap to Permanent Affordability     Analysis, observations and the future of subsidized housing in New York City.